Create, Operate and Publish Multiple Blogs
The Easy and Completely Automated Way!
Let's make serious money revenue with blogs,
not just blogs, but totally automated money maker blogs!
Blogs Organizer v3.5 just Released!
Tons of New features, tons of new Power!
You're not making enough money...
But you probably already knew that. However, this is not due to a lack of drive, deficiency of passion or shortage of work ethic. It's due to a lack of tools. So, are you ready for a program that makes blogging tools like WordPress, RSStoblog, BlogtoRank and WPBurner look like they're moving in slow motion and like a child toy?
Welcome to
Blogs Organizer
, the first software to give you
ULTIMATE control
over thousands of your own blogs and lots more....
The TOTAL Automation You Need...
Being a successful, You need a software that Provides Extremely Easy and Time Saving Operation of Thousands of Blogs, combined with Automation and Scheduling Your Daily work for Years Ahead. Don't waste your time searching the web for any other smoked out blogging solutions,
Blogs Organizer
is the ULTIMATE solution you ever need!
What a God Send!!!

I had never operated a Blog before or installed a script myself and was expecting a long learning curve and lot of complication.

I had just purchased a package of Blogs Organizer and it made it so easy that I installed and set it up wihtout any complications and even had my first Blog live in just about 10 minutes!

Now, 3 days later, it takes me less than a minute to get one set up. Thanks!!!

- Brian, email feedback


Learn All About How You Will Profit From
Blogs Organizer and why it is Revolutionary!
Revealed! The Secrets about Blogs
Blogs are definitely the web's most important Discovery of the new millenium! It is Proven, if You want to make money Shockingly Easy, You should go with Blogs!
Blogs are specific type of sites, designed especially for the Search Engines. Their structure is with the best possible SEO, so that the Search Engines can easily crawl all the fresh content and text. Blogs are constantly and regularly updated with fresh and hot materials. That's the real secret why blogs are so Successfull! Search Engines are designed to serve the surfers with fresh new content everyday, and that's exactly why Search Engines love Blogs so much and give them priority infront of any other type of websites!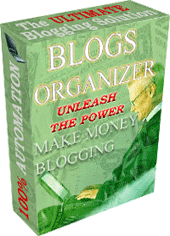 The Right Place at the Right Time with the Right Tool...
Most advanced webmasters gave up on their regular web sites and transformed them into blogs and took advantage of the Profits Inside blogs! Don't wait any more, take advantage of the Proven Results with blogs, right NOW!
How many times have you kicked yourself for not finding the "right" software sooner? What kind of shape might your bank account be in had you been at the right place at the right time?
We have news for you. This
IS
the right place and this
IS
the right time. Blogs Organizer
IS
the right tool. Blogs Organizer is the
next generation in SEO / Blogging software
and virtually NO ONE has it yet. That means you're on the crest of the forming wave, not underneath it.
It's Really Awesome!

Hello Atanasis,

I am almost a newbie blogger and I have been running couple of blogs manually, generating about $400 with all of them! That was my maximum :(

I ordered Blogs Organizer on 17 January 2006. I transformed my existing blogs and created a bunch of new blogs since its pretty easy now to operate them all! With the awesome time saving and automation features of Blogs Organizer just after 2 weeks I've already made $700 in profits and still growing at a great rate!

I am pretty happy I ordered this software without a second thought, because I knew it would work 100%...according to my thoughts that I need a tool to operate more blogs and Easy!

- James, ICQ feedback


Unleash The Power of Blogs Building!
How Would You like a network of blogs spread all over the internet appearing on top positions at almost every Search Engine bringing you fresh traffic and sales? The more blogs you are able to operate easily, the more Guaranteed Profits in your pocket!
It's Shockingly Easy!
There is nothing for you to invent or hard work to deal with! It's as easy as setup a new blog for less than a minute and put it on autopilot! From now on You don't have to post day by day, just
Schedule
Your posts in Blogs Organizer and let them appear automatically! Your Blogs update themselves automatically 24 hours a day, 7 days a week!
You'll never have to lift a finger
Keep all the for profit for You and don't worry!
Tired of losing surfers through RSS? Blogs Organizer uses an RSS system that DOES NOT link to outside sites. This means you can use RSS but surfers NEVER leave your site.
Manage ALL of your blogs internal and external links from one place. This feature gives you ultimate control over ALL of your blogs links.
Forget about remotely hosted blogs like Blogger and etc..Now you have your blogs on your own servers and never should worry that they will disappear or someone is stealing your traffic!
The whole deal about Blogs Organizer once again..
You want to make money, right? Well, you want to make much money, not just money, right?
To make money you need to do or sell something that is HOT, right? Well, Blogs are now the hottest sites on the web. A single blog can generate traffic, that a regular website can only imagine!
To operate a blog manually is tough job! So You need some tool that can operate you as many blogs as possible and with a big ease, right?
Well, here comes
Blogs Organizer!
A bargain at 10 times the price.
Now I can keep up with all my blogs automatically.

Really Revolutionary and Unique! Just what I was dreaming about in my hottest dreams!

Since I got Blogs Organizer, I am operating over 150 blogs with it. I added adsense and kanoodle to all my blogs. Now almost all my blogs are on the top listings at the Search Engines. Now I am making money day after day.

I can start a blog everyday and just put it on autopilot.

- George,


This is what Blogs Organizer does for you:

Operate thousands of Blogs from one single place with a big ease!
Just one install of the script is needed to operate thousands of blogs! The location of your blogs does not matter - they can be on same domain, same server, other domain, other server! One admin panel to manage all of them!

Create a new blog for less than a minute.
Just enter the details of your blog and hit a button! Upload couple of files to your blog location and thats it! Really thats All! About a minute takes the whole process to start a new blog.

TOTALLY AUTOMATE Your blogs.
Yes, thats the truth! You can setup a new blog for less than a minute and put it on total autopilot and never touch it again! Blogs Organizer provides you ability to populate your blogs from remote RSS Feeds! Just provide the feed url and let Blogs Organizer regularly crawl it and post its content to your blog as posts!

Smart Scheduling System and Completely Automatic Updates
You don't need to post to your blogs day by day manually! You can enter your posts for years ahead and schedule them when exactly to appear! Blogs Organizer will update all your blogs completely automatic without having you to lift your finger.

Operate all types of blogs from one single place.
Yes, thats totally true! You can now operate and blogs not managed by Blogs Organizer, like blogs on blogger.com , wordpress and many other blogs operated by other kind of blogging software. You can completely use the Blogs Organizer scheduling, autoposting and autopinging features with all your blogs!

Forget about the worry for your blogs.
With Blogs Organizer all your blogs are hosted on your servers and places where you feel secure. You don't have to run your blogs anymore on the remote free hostings like blogger. A blog of yours will never disappear!

Automatic RSS feeds Generation.
Along with your blog posts, Blogs Organizer automatically creates RSS feed for each single blog you run. From now on you don't have to use separate software for creating feeds.

Keep your traffic and your money.
Remember all blogs run by Blogs Organizer are on your server? You won't get any hard earned traffic redirected. Remember Blogs Organizer generates RSS feeds? You don't use any remote or free feeds generation programs that place links to external sites. You keep all the outgoing traffic to your sites.

Smart Archiving System.
For all your blogs, Blogs Organizer creates archived pages. Provide to your surfers fairly large database of posts they can look through and make You even more money!

Automatic "Pinging System".
Blogs Organizer even pings! The smart pinging system informs the aggregators and Search Engines on every single new post or update of your blogs automatically.

Complete Search Enginges Optimization
Blogs Organizer is related to operating blogs, right? The general traffic source for blogs are Search Engines. For this reason Blogs Organizer is carefully designed to provide you the most SEO for your sites. It has built in features exactly for the SEO work and much helpful hints and tricks that help you with the SEO.

Automatic Hard Links Exchanging System.
Are you doing your hardlink ecxhanges by hand? With Blogs Organizer you manage all your hard links easily for all your blogs. Your blogs can automatically link each to other even!

Friendlier and Helpful Interface.
Blogs Organizer is designed pretty carefully to make your work with it like a child's game. Everything is properly arranged and the most important features are always just infront of your eyes. Most part of the work you will regularly do is automated and you need mostly to use the mouse and not the keyboard.

Total Control over all your blogs.
With Blogs Organizer you totally control every single detail of every single blog you operate. The design possibilities are unlimited! No restrictions on anything, its just like you build each blog by hand!

Endless Possibilities and Features
Blogs Organizer is a very complete blogging solution and it shows, it is used on a large number of websites around the world. For your convenience we have listed an overview of the most important features. By no means this list is indented to be complete, but mentioning all the features of Blogs Organizer would simply take too much space.
Main New Features as of version 2.5

Full Advanced WYSIWYG Editor
High class web editor is integrated to the software, so that you can create your posts and designs in real time in the administration panel itself. It is powered with pretty easy and nice
Picture Upload & Processing
module, so that you can insert pictures to your posts with just few clicks!

Total SEO and No Footprints!
Your blogs have the ultimate Search Engine Optimization possible. Your single blogs posts links can be titled as you want and created from the title of the post itself. Script automatically build Google Sitemaps too!

Feed All Your Blogs from RSS Feeds
From now on, you can auto populate all your blogs from RSS feeds. This includes Wordpress blogs, Blogger.com blogs, and lots more and more...

Major Script Improvements and Reliability
Script performance is taken to a new level with major improvements on code, which provides ultimate fast performance and increased reliability. Tons of smaller features are added, which definitely give you more options and flexibility!
Main New Features as of version 3.0

Blog Categories
Each of your blogs can have multiple categories to which you assign your posts to! Get more targetted traffic and more SEO by categorizing your content on your blogs.

Brand New Interface
Totally new admin interface has been introduced. It is now more userfriendly, more nice looking and more easy to deal with. The new interface is stunning in its simplicity and ease of use!

Authors Support
Publish your posts with different simulated authors to give your blogs more personal touch and increase readers attention!

Content Manipulator
Increase the SEO and productivity of your posts by using the brand new content manipulator functions of the software. You are able pretty easily to rewrite/replace contnent in your posts based on keyword/keyphrases search. You are able automatically to link certain words to any site you wish.

Tons of small, but useful new features
Big amount of small other features and addons have been introduced that help you operate your blogs more automatically, more efficient and more flexible.
Main New Features as of version 3.5

Tagclouds Support
Build and display SEO tagclouds across all your blogs with easy and fully automation. Blow OFF your SEO to the sky!

RSS Sidebars Support
Easily and automatically display the contents of RSS feeds at your blog sidebars.

Monthly Archives
Boost your SEO by maintaining monthly archives of your blog posts. Ofcourse all automated!

Remote API
Fully operation Remote API to administrate all your blogs with your favorite remote blogging program, be it server based or desktop application. Publish posts, edit posts, upload files.. all is now available!

Design Improvement
Unbelievable desig and architecture redesign and improvement of the whole system and administration control. You now work with the script more easier and more faster. That saves you lots of time and efforts!
Blogs Organizer is the Full Featured, Completely
Standalone and Ultimate Blogging Tool You NEED
This is just what I need!

Blogs Organizer is the program I had been waiting for. I immediately bought it when I saw, what it could do to automate the blog posting process.

It allows me to be more efficient and give me the time I need to devote to other projects.

It allows me to setup blogs that have real content; are updated daily and look great.

Thanks for the great piece of software! I've been blogging for over 15 months but now Blogs Organizer has completely automated the whole process for me, saving me time and most importantly money.

This goes down in my book as one of the "must have" items of software every internet marketer should have!

- Charlie,



See Blogs Organizer in Action!

Watch Our Complete Video Tutorial Demo

Click to Play it NOW!
Blogging has never been easier with Blogs Organizer!
| | |
| --- | --- |
| | I am Ready! Let me Get My Copy Now, So I Can Start Blogging Immediately and Make Real Money NOW! |

I understand that by ordering today, I pay only $137
and I will receive full featured copy of Blogs Organizer and I will be entitled to all future updates and unlimited customer support.

I will receive FREE Installation and Setup
if I am confused to get the script going.

I am sure my server will meet
the following requirements for installing and operating Blogs Organizer:

Operating System Unix/Linux/FreeBSD

PHP 4.3 or higher

MySQL

Zend Optimizer

CURL PHP Library

Wget

Cron Jobs

I completely understand
that by purchasing this product I am allowed to install it on one domain only. Despite that this software is multidomain and with one install only I can operate unlimited blogs no matter where they are located!

After my order is confirmed,
I will be able to download my copy of Blogs Organizer
Immediately
. Within 10 minutes after my purchase I can have my first blog ready!

I can make an online 100% secure purchase
instantly by my Credit Card through the authorized retailer ShareIT.com, or by virtual money transfer at Epassporte or Moneybookers.

I'd have to be insane
to miss out on this fantastic deal! And I know I'll pay only $137 now and I can get all of my money back guaranteed by your
30 days 100% money-back guarantee!
Price: $187 - Now for $137 only!




(limited time offer, still 13 copies available at this price!)
Don't Wait Any Longer!
Start Making Guaranteed Money NOW!
Are Your Affiliate Program Owner? If so Keep Reading....
We have some pretty hot offer for you as affiliate program owner! You can dramatically boost up your affiliate program exposure and profits! Be sure to read what we have to offer, you won't regret it!
Are You looking for the next-level Affiliate Promo Tool?
Sure you are! We offer you a next-level, hot promotional tool to power up your Affiliate Program!
Shockingly Boost Up of Your Affiliate Program!
Breakthrough Money-Making Affiliate Promotional Tool Uncovered!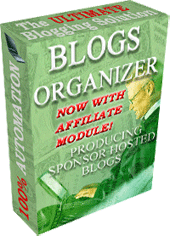 Click Here to read about Blogs Organizer Affiliate Module!
Sincerely,