Create, Operate and Publish Multiple Sponsor Hosted
Blogs The Easy and Completely Automated Way!
Shockingly Boost Up of Your Affiliate Program!
Breakthrough Money-Making Affiliate Promotional Tool Uncovered!
Are You looking for the next-level Affiliate Promo Tool?
We bet you are looking how to extend your affiliate program and make it more attractive to affiliates and make it more money maker for you! Are we correct?
YES
, sure We are!
Are you ready for affiliate promotional tool, that blows up the interest in your affiliate program and expands your affiliate market to unlimited dimensions?
We are proud to introduce you
Blogs Organizer with Affiliate Module
, the first and only software to give you ULTIMATE control over thousands of your own affiliate promotional blogs and lots more....
Breaktrhough Affiliate Promotional Tool Revealed..
Definitely, the next level in affiliate marketing is affiliated Blogs! Blogs are definitely the web's most important Discovery of the new millenium! It is Proven, if You want to make money Shockingly Easy, You should go with Blogs! All experienced webmasters understood that, and started seriously blogging and increasing their revenues.
Now, extending your affiliate program, by providing affiliated blogs to which your affiliate webmasters can send traffic and receive full credit for any sales made, you will definitely make a
Shocking Breakthrough
!
Boost Up Your Revenue by Capturing more Bloggers...
As we said, blogs are now so bright and receive much media attention, so that all experienced webmasters and SEO specialists turned into blogging! Don't miss out these guys! They are the most money maker businessmen online, and having them work in your team will be only a Success for you!
Providing Affiliated blogs in your affiliate program, definitely you will grab the attention to all bloggers and will make them work for you! They will be more than happy and satisfied promoting your affiliated blogs and receiving full credit for any sales their traffic made! Be sure to Boost Up your affiliate company earnings by having bloggers promoting you!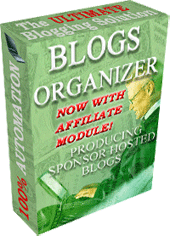 Now is the Time for Your Guaranteed Breakthrough!
Don't wait any longer! Start providing affiliated blogs to your affiliates as extension to your current promotional tools! Blogs will give you the boost up you deserve, by taking advantage of the Profits Inside blogs!
Affiliated blogs aren't so popular among the affiliate program so far, so having blogs, your affiliate program will stand up from the crowd! You will be among the first affiliate programs that offer promotional blogs! You will experience immediate drastic increase of interest in your affiliate program, tons of new members will join your program, tons of new and easy sales will be made on your blogs!
How many times you have kicked yourself for not introducing a new-level promotional tool before your competition? What kind of shape might your bank account be in, if you have been at the
Right Place, at the Right Time
?
We have great news!
Now's the time to blow off your competition smell your dust!
No need to talk, The stats are saying it..

Hey guys,

I just wanted to say you the Blogs Organizer Affiliate module really Rocks!

After you gave it to me, within 2 days I were able to build 5 really qualified affiliated blogs, and I introduced them to my affiliate webmasters. Its pretty shockingly easy installing and maintaining everything from one place!

Now the most Shocking part! 1 day after I introduced the blogs to my affiliates, 3 sales were made from them and numbers are increasing with each single day more webmasters are using them!

This definitely boosts up my affiliates earnings and my own earnings too! I see big potential in blogs as affiliate promo tools and I am glad I came accross you!

Thanks!

- Gabriel, ICQ feedback


Now, Listen Up Carefully Affiliate Program Owners!
Blogs Organizer
is really unique blogging software, that no other software is even closer! We can tell you much about it here, but we won't, since we did it already
here
. To learn everything about Blogs Organizer read that page! Here we will tell you just the creampie only!
Blogs Organizer has proven to be really amazing and great complete, fullfeatured blogging software, guaranteed money-making machine for bloggers! It is so unique, because it provides you ability to operate high numbers of blogs with just a single script installation! No more multiple software installs are needed for each blog operated! With Blogs Organizer, you operate all your blogs and everything about them from one central database and one admin panel. You can mass import posts, you can schedule your posts to appear automatically at specified date, you can even resubmit your posts on specified period. You can do lots more and more!
By introducing the Affiliate Module for Blogs Organizer, we provide you the unique ability to operate high numbers of affiliated promotional blogs for your affiliate program, so that all your affiliated webmasters can promote them and receive full credit for their sales!
This is what Blogs Organizer Affiliate Module does for you:

Operate thousands of Affiliated Blogs from one single place with a big ease!
Just one install of the script is needed to operate thousands of blogs! The location of your blogs does not matter - they can be on same domain, same server, other domain, other server! One admin panel to manage all of them!

Create a new blog for less than a minute.
Just enter the details of your blog and hit a button! Upload couple of files to your blog location and thats it! Really thats All! About a minute takes the whole process to start a new blog.

TOTALLY AUTOMATE Your blogs.
Yes, thats the truth! You can setup a new blog for less than a minute and put it on total autopilot and never touch it again! Blogs Organizer provides you ability to populate your blogs from remote RSS Feeds! Just provide the feed url and let Blogs Organizer regularly crawl it and post its content to your blog as posts!

Automatic Affiliate ID Replacing
The Affiliate Module, does exactly that! The webmaster affiliated id is dynamically changed in real time all over your blogs, so that the webmaster sending traffic to it, is receiving full credit for any sales made!

Nice Looking and Easy Affiliate Linking
Your affiliate webmasters can link pretty easily to your blogs, like http://www.myblog.com/?aff=ID You keep your links small and tidy, and all affiliated links inside your blogs receive the webmaster id, so that he is paid for all sales made!

Full Affiliate Tracking Guaranteed!
The Affiliate module smartly remembers the affiate id through which the visitor accessed the blog, by setting a "cookie", so that even if the visitor bookmark and close the browser and revisit the blog after a time, the webmaster affiliate id will still be tracked!

Won't miss out any sales!
You have the ability to set default affiliate id to be shown at the blogs, so that if the blogs are accessed directly without affiliate linking, like from Search Engines or other traffic sources, that exactly default affiliate id is put in the links!

Total Control over all your blogs.
With Blogs Organizer you totally control every single detail of every single blog you operate. The design possibilities are unlimited! No restrictions on anything, its just like you build each blog by hand!

Endless Possibilities and Features
Blogs Organizer is a very complete blogging solution and it shows, it is used on a large number of websites around the world. For your convenience we have listed an overview of the most important features. By no means this list is indented to be complete, but mentioning all the features of Blogs Organizer would simply take too much space.
Unleash Your Affiliate Program Earnings Potential
Now with Blogs Organizer & Affiliate Module!
| | |
| --- | --- |
| | I am Ready! Let me Get My Copy Now, So I Can Empower my Affiliate Program and Increase my Revenue Dramatically! |

I understand that by ordering today, I pay only $209
if I want to purchase Blogs Organizer+Affiliate Module, or just
$72
if I want just the Affiliate Module and I will receive full featured copy of the software and I will be entitled to all future updates and unlimited customer support.

I will receive FREE Installation and Setup
if I am confused to get the script going.

I am sure my server will meet
the following requirements for installing and operating Blogs Organizer and/or Affiliate Module:

Operating System Unix/Linux/FreeBSD

PHP 4.3 or higher

MySQL

Zend Optimizer

CURL PHP Library

Wget

Cron Jobs

I completely understand
that by purchasing this product I am allowed to install it on one domain only. Despite that this software is multidomain and with one install only I can operate unlimited blogs no matter where they are located!

After my order is confirmed,
I will be able to download my copy of the software
Immediately
. Within 10 minutes after my purchase I can have my work going!

I can make an online 100% secure purchase
instantly by my Credit Card through the authorized retailer ShareIT.com, or by virtual money transfer at Epassporte or Moneybookers.

I'd have to be insane
to miss out on this fantastic deal! And I know I can get all of my money back guaranteed by your
30 days 100% money-back guarantee!
| | |
| --- | --- |
| | Price: $277 - Now for $209 only! |
Don't Wait Any Longer!
Unleash Your Affiliate Program Potential NOW!
Sincerely,